South West Road Runners Race Reports
Race Results 16/05/2022📣 from Victoria Hill
Last week saw the return of the Run Exe Relays! An event we love to take part in.  This year 18 members took part over a variety of age group teams and we finished 2nd V40 Men's and 2nd V40 Women's team 🥈🥈
Individual results were as follows: Edward Pickering 13.30, Jody Bee 13.43, Milan Goc 14.50, Ed Shaw 14.55, Paul Stidworthy 15.05, James Wolf 15.10, Charlie Withers 15.56, Pauline Beer 16.10, Suzie Tosh 16.36, Gavin Connor 16.48, Louise Reynolds 17.01, Laura Nichols 18.07, Jenny Debenham 18.21, Roz Debenham 18.24, David Nichols 18.45, Tracy Connor 19.10, John Major 19.11, Eleanor Lang 21.21 👏🏻👏🏻👏🏻
5 members took part in the Beer Blazer! A multi terrain 10 mile race (considered a mini grizzly) well done all!
Nick Einchcomb 1:29:47, Laura Nicholls 1:57:58, Rose Elliott 2:00:46, Anita Atherton 2:23:54, Lawrence Atherton 2:23:55
Salzburg Marathon weekend:
Senior Men's team Winner – Jamie Pullinger; James Benham; Ollie Thorogood; Gareth Davies
Mixed Team Winner – Amy Jones; Paul Thomas; David Wilson; Nicky Savill
Finally, Darren Chalk (our resident ultra king) took part in the West Country Flat 51 miler and came 4th in a time of 9hrs 35 minutes 🙌🏻
10/05/2022
Ottery 10k (a championship race for us) and we had a great turn out! With our ladies taking the top 3 spots to finish 1st, 2nd and 3rd 🥇🥈🥉
Miko Cadeddu was first home and 2nd 🥈overall in a time of 36.01
1st lady Rosie Hattersley 37.46 🏆
Jamie Howard 37.57
2nd lady 🥈Victoria Hill 40.10
James Woolf 41.16
3rd lady Becky Davies 41.30 🥉
Rich Stone 42.51
Ross Stevens 43.11
Charlie Withers 43.37
Alister Ferguson 44.09
Barry Frost 45.42
Jonathan Rich 48.21
Jenny Debenham 50.59
Julian Budd 50.33
Debra Stevens 52.15
Lee Cusick 52.38
Mark Tait 55.11,
Caroline Tait 57.16,
Jack Clutterbuck 57.26
Lawrence Atherton 1.00.35
Ryan Moore 1:03:01
Deb Winship 1.04.41,
Linda Gethin 1.04.59
Melly Parkin 1:14:15
River Run 10k which took place on Friday evening.
Don Rufus was first home for the club and 2nd🥈 overall in 38.03
Dan Milner finished in 56.25 PB.
Milan Goc completed the Saltash Half Marathon in 1.31.58 (8th over all and 2nd in age category).
Maggie Gellersjo took part in the Lisbon Half marathon! It looked like a scorcher so well👏🏻 done
Three SWRR headed to Bideford for the annual 10k.
Nicky Savill was first home for the club and 4th female in 38.44,
Tony Gale in 52.37 (4th V70!)
Martin Saxton in 1.07.47.
Race report 25/04/2022 📣
It really does feel like racing is back in full swing now and we have had some brilliant performances over the past few weeks. This weekend was no exception as we saw the return of the Bristol Track Club 5k.  Four of our members took part and came away with some fantastic times! Ollie Thorogood 15.04 (PB) 🤩; Tom Humphrey 15.59;Jamie Pullinger 16.32; Paul Thomas 18.16 (1st in Age Cat) 🤩
Three SWRR took part in the Sid Valley Ring half marathon, a scenic, hilly, on and off road race and their times were: Rob Scovell 2.15.51; Louise Reynolds  2.18.13; Rose Elliott 2.38.42
And finally Danielle Cox and Jenny Debenham completed the Exmouth half marathon, an undulating course, with a section on the coast path and came away with 2.26.45 (Danielle) and 2.06.54 (Jenny – who also took 3rd lady 🥉and 1st V40!)
We also wanted to congratulate our members Sam Hopton and Alex Crump who both qualified for the Duathlon European Championships this weekend 🏃🏻‍♂️🚴🏻‍♂️.  Sam took the win🏆, with Alex a close 2nd 🥈.  Fantastic performances and so well deserved!
Well done to you all! 🙌🏻
Race Results 11/04/2022:
Beat the Train 10K:
Mike Kay 59:08
Roz Debenham 1:01:17 (1st FV40)
Jenny Debenham 1:02:31
Vanda Van Der Linden 1:05:48
Deb Winship 1:29:39
James Woolf 1:29:40
Brighton Marathon:
Gwilym Gibson 2:41:00 22nd
Nick Bruce White 2:46:18
Great Welsh Marathon
Suzie Tosh 3:40:32
Rotterdam Marathon
Scott Hunter 2:52:41
Vale of Glamorgan Ultra 33 miles
Lawrence Atherton 7:35:00
Exeter Tough Runner Duathlon
1st Sam Hopton
Report by Ollie Thorogood 04/04/2022:
Starting with our very own First Chance 10k! The start line was a sea of yellow with over 30 Road Runners taking part in the race and many other members volunteering out on the course making sure the event ran smoothly.
The race was won by Gareth Davies who kicked on in the final kilometre to storm past the second place finisher who had been leading for much of the race. Gareth finished in a personal best time of 34.05 and was not the only SWRR member on the men's podium with Jamie Pullinger finishing 3rd in a PB of 34.40. In the women's race, Becky Davies finished 3rd overall in a time of 40.02. There were also age category prizes for Joel Heatley 1st MV40 (36.36), Jody Bee 2nd MV40 (36.38), Jenny Debenham 2nd FV40 (49.42), Donna Smith 2nd FV60 (53.05) and Caroline Tait 1st FV55 (57.21).
The full set of club results are:
1 Gareth Davies 00:34:05; 3 Jamie Pullinger 00:34:40; 7 Hamish Fletcher-Cooney 00:36:00; 9 Joel Heatley 00:36:36 – 1st MV40; 10 Jody Bee 00:36:38 – 2nd MV40; 11 Jamie Howard 00:36:54; 12 Philip Cowlard 00:38:17; 17 Ross Stevens 00:38:51; 18 Harry German 00:38:57; 23 Becky Davies 00:40:02 – 3rd Female; 25 Amie Walker 00:40:33; 32 Richard Stone 00:43:29; 42 Robert Scovell 00:45:11; 45 Andrew Iley 00:45:22; 47 Neil Adger 00:46:16; 52 Claire Guthrie 00:47:27; 54 Mark Eatough 00:47:50; 59 Laura Nicholls 00:49:15; 60 Callum Lamont 00:49:36; 62 Jenny Debenham 00:49:42 – 2nd FV40; 65 Julian Budd 00:50:03; 76 Sophie Harrison 00:52:49; 80 Donna Smith 00:53:05 – 2nd FV60; 82 Zara Salman 00:53:25; 83 Julie Belshaw 00:53:30; 91 Jack Clutterbuck 00:56:32; 92 Dan Milner 00:56:33 (PB); 94 Caroline Tait 00:57:21 – 1st FV55; 97 Georgina Tonna 00:58:36; 115 Linda Gethin 01:03:21; 125 Mark Jelley 01:11:15
On to the Manchester Marathon and 5 of our members took part this weekend with 2 dipping under the magical 3hr mark. Our very own Men's Captain Stephen Sincock also ran an incredible 3.03 placing him 6th V60!
Rosie Hattersley and Victoria Hill came home with big personal bests, Rosie was the first club member to finish in a time of 2:55:59 closely followed by our Ladies Captain Victoria in 2:57:29. There were also brilliant runs from Ash Voralia (3:01:30), Paul Stidowrthy (3:28:02) and Rich Hill (4.38.40)
Taunton Marathon
Staying with the marathon, Miko Cadeddu ran in Taunton and finished under 3 hours in 2:59:26.
Frank Kelsall ran the Taunton Half in 1:40:25.
Reading Half Marathon
Over in Reading, George Harris completed the half marathon in a personal best time of 1:17:39
London Landmarks half marathon
Maggie Gellersjo finished in 01:57 (PB) and Neil Lawson finished in a time of 1:46:59.
Powderham Power Run
A new event organised by City Runs, the event consisted of either a 5 mile or 10 mile multi-terrain route around Powderham Castle. In the 10 mile event, Charlie Withers was first club member home and 3rd M40 in 1:18:52. Alister Ferguson was close behind in 1:19:06. Finishing in the top 3 of their age categories were Barry Frost 3rd M60 (1:21:40), Louise Reynolds 2nd F40 (1:21:59), Lewis Jones 2nd M70 (1:29.41) and Donna Smith 1st F60 (1:39:15).
22 Charlie Withers 1:18:52
23 Alister Ferguson 1:19.06
31 Andrew Iley 1:21:24
33 Barry Frost 1:21:40
34 Louise Reynolds 1:21:59
50 Mike Kay 1:28:16
56 Lewis Jones 1:29:41
57 Joe Dickson 1:30:12
83 Donna Smith 1:39:15
108 Caroline Tait 1:46:17
In the 5 mile event, Jim Ferguson finished 2nd M70 in 56:28.
And finally, the beautiful but brutal Exe to Axe
As you may guess from the title of the event, the Exe to Axe is a near 22 mile race from Exmouth (the Exe) to Seaton (the Axe) organised by Sidmouth Running Club. Tim Landy finished 6th overall in a time of 3:12:34. Matthew Gauld finished 9th in 3:23:02. Ed Shaw finished within 4 hours with a time of 3:56:33 and John Fowler completed the course in 4:48:01.
Race report from Victoria 28/03/2022:
Cardiff Half Marathon
Amy Jones 1:24:00 (PB); James Hockridge 1:29:00; Mark Tait 1:58:35 (PB); Tracey Lloyd 2:02:22; Trudy Saxton ; Caroline Tait Sub 2:30
Weston Half:
Francis Colledge 1:27:00; Jonathan Rich 2:14:49
Total Coastal 50k Ultra
Matthew Gauld 7th 5:45:53 
Race Report from Victoria Hill 21/03/2022:
UK INTER-COUNTIES CHAMPIONSHIPS (Inc BRITISH ATHLETICS CROSS CHALLENGE), Loughborough, March 12th
39:12 Tom Humphrey
Over the weekend:
Tavy Half:
7th Jamie Howard 1:27:24 (1st MV40); 12th Stephen Collier 1:31:12 (1st MV45); Ross Stevens 1:34:46; Karl Schultze 1:43:09; Jo Pearce 1:43:45 (2nd FV50); Louise Reynolds 1:46:51 (2nd FV40); Rob Scovell 1:50:54; Andrew Coates 1:51:41; Rosie Glazier 1:55:04; Debra Stevens 1:55:14; Serena Dyer 2:15:32
2nd male team – Jamie Howard, Stephen Collier, Ross Stevens & Karl Schultze; 2nd female team – Jo Pearce, Louise Reynolds, Rosie Glazier & Debra Stevens
Granite Way 10:
1st overall and 1st MV40 Nick Bruce-White 59:21 (PB); 3rd Don Rufus 1:02:04 (2nd MV40) (PB); 7th Steve Sincock 1:04:55 (1st MV60); Jim Durston 1:17:03, Lewis Jones 1:21:42 (1st MV70), Claire Guthrie 1:22:56 (PB), Julian Budd 1:25:49 (PB), Kate Taylor 1:33:55
Granite Way 20:
8th Simon Tucker (1st MV35) 2:30:38 (PB);Paul Stidworthy 2:41:40 (PB), Suzie Tosh 2:49:42 (PB), Fern Rice 3:20:33, Lee Cusick 3:54:08
Hampton Half:
Tracey Lloyd 2:03:30 – 9th V55
Weymouth Half:
39th Adam Roberts 1:28:35 (PB),, Jonathan Rich 1:40:23  (PB),
Race Results – 15/03/2022 – compiled by Victoria Hill
📣 Race report 📣 This week saw the British Athletics Inter Counties Cross Country take place in Loughborough and Fiona German represented Devon as part of a team.  Fiona ran a brilliant race, coming in first senior lady and 74th overall! Well done 🏆
Suzie Tosh raced the Grand Canal Canter half marathon and finished in 1.43 and 3rd lady over all 🤩
Fantastic results – well done.
Race Results – week commencing 7th March 2022
This weeken saw 2 BIG events take place – the Grizzly and the Bideford Half Marathon. Both have become staple races for the club so we had a big turnout for both races.
The Grizzly:
12th Nick Bruce-White 2:34:33 PB, 25th Hamish Fletcher-Cooney 2:46:35, 31st Milan Goc 2:49:44, 50th Rosie Hattersley 2:56:04, Ethan Pavey 2:57:35, Jamie Howard 2:57:38, Matthew Gauld 3:04:56, Stephen Collier 3:09:04, Ed Shaw 3:12:08, Ross Stevens 3:15:36, Kieran Ferris 3:18:52, Charles Withers 3:20:47, Tim Vialls 3:28:12, Neil Adger 3:40:52, Karl Schultze 3:48:35, Jenny Debenham 3:51:10, Rob Scovell 3:51:30, Roz Debenham 3:58:40, Daniel Hawkrigg 4:00:14, James Higgins 4:01:20, Suzie Tosh 4:02:22, Debra Stevens 4:02:24, David Wilson 4:14:40, Julie Hedges 4:15:06, Joe Dickson 4:17:02, Laura Nicholls 4:17:44, Rose Elliot 4:20:04, David Nicholls 4:25:46, Rosie Glazier 4:30:02, Fern Rice 4:30:03, Lindsey Pattinson 4:38:11, Jules Pring 4:38:12, Richard Stone 4:42:21, Donna Smith 5:03:09, Caroline Tait 5:03:10, Katie Williams 5:08:20, Lawrence Atherton 5:17:55, Mary Daymond 5:17:56, Anita Atherton 5:18:23, Claire Chalk 5:18:23.
The Grizzly Cub
18th Harry German 1:18:58, 20th Alex Carter 1:19:23, Jo Pearce 1:23:20, Julian Cabrera 1:24:58, Julie Belshaw 1:48:06, Wendy Barratt 1:52:35, Naomi Shaw 1:52:40.
Bideford Half
Winners of the Senior Mens Team  – 4th Ollie Thorogood 1:09:39 PB, 11th Gwylym Gibson 1:13:56, 15th Miko Cadeddu 1:14:46, Don Rufus 1:20:03.
Ben Williams 1:22:31, Steve Sincock 1:23:23 (1st MV60), Ash Voralia 1:23:39, Becky Davies 1:28:21 (3rd Senior Female), Katie Coult 1:31:56 (3rd FV35), Alister Ferguson 1:34:06, Martin Sheriff 1:45:41, Neil Lawson 1:47:11, Julian Budd 1:48:59, Tracey Lloyd 1:51:39, Lee Cusick 1:57:04, Ryan Moore 2:15:44, Martin Sterry 2:15:45, Hayley Sterry 2:15:45, Linda Gethin 2:19:44, Martin Saxton 2:26:49.
Larmer Tree 10 miles
Vanda completed in 1:45 (1st FV60)
Newport Half
Paul Stidworth 2:13:01
RACE REPORT by Victoria Hill 28/02/2022:
Another quiet week for racing this week as we build towards the Grizzly and Bideford Half next weekend….
However, Suzie Tosh raced the Belvoir Challenge (15 miles) in 2;41;00 and was 17th female; and Becki Kealy raced the Burrator Noir 10k and won! Brilliant running Becki!!
City Run 5 mile Exmouth Seafront 01/03/2022:
5th 0:29:30 Edward Pickering 
8th 0:32:14  Stephen Collier 
12th 0:34:13 Simon Tucker 
Great running as always from team SWRR
RACE REPORT by Ollie Thorogood 21/02/2022:
With many races cancelled this weekend due to the stormy weather, going out for even a short run was tough going. There are no suitable words to describe Darren Chalk's achievement competing in the Brecon to Cardiff ultra in what was in his own words 'rubbish weather'. 70km with approximately 1,500m of elevation gain crossing the mountainous Brecon Beacons National Park. You can only imagine how tough that would be in perfect weather conditions let alone the dismal weather that was endured over the weekend. Darren completed the course in 8hrs 2 mins. An incredible performance!
Some runners also took the opportunity to take part in some Grizzly preparation with the long awaited return of the event in less than 2 weeks time. Coming up, we also have the final round of the Westward League Cross Country on 27th February, the final round of the Exmouth 5 Mile Series on 1st March and Bideford Half Marathon on 6th March.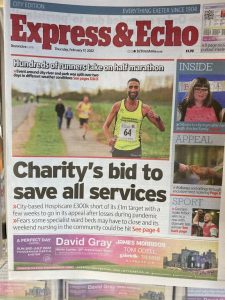 There's also a great photo of Ash Voralia in the Express and Echo this week from the Exeter Half Marathon.  PB 
29 March - 4 April
As lockdown starts to unwind, racing action will start to wind up again! On Good Friday, the first two of hopefully many took place at Exeter Racecourse – the 'Fast Friday' 5k and 10k races. Plenty of PBs were earned showing that lockdown training has been paying off for many!
In the 10K, Ollie Thorogood was the first SWRR over the line, and 3rd overall in a time of 32:43, followed by Thomas Humphrey 35:01, Francis College 35:53 (35:53), Jody Bee 35:56, Hamish Fletcher-Cooney 36:14, Nick Bruce-White 36:14 (PB), Miko Cadeddu 36:27, Scott Hunter 38:46, Kieran Ferris 40:27 (PB), Stephen Collier 41:55 (PB), Richard Stone 42:07, Matthew Walmsley 42:47, Alister Ferguson 43:03, Adam Rooke 44:22, Mike Feighan 48:00, Joe Dickson 48:26, Jules Pring 49:42
And in the 5K, Sam Hopton was the first SWRR and 10th place overall in 15:50 followed by Joe Osborne 17:15, Alex Crump 17:19, Paul Thomas 18:33, Jo Pearce 21:13
30 Sept - 6 October. Report by Ian Pang
It was another busy week of racing for SWRRs , at the Bournemouth Marathon first to finish was Gwylym Gibson in 5th overall in 2:46;59 then 56 Richard Pedrick 3:07:38 , 1704 George Andrews 5:08:22 , 2125 Tim Lupton 6:38:48 . In the half marathon Shaun Vanstone finished in 1:32:33 .
Paul Stidworthy achieved a PB 1:28:03 at the Cardiff University Half marathon followed by Victoria Hill 1:33:15 , Richard Stone 1:38:25 , Suzie Tosh 1:39:03 PB , Lawrence Atherton 1:55:35 , Mark Tait 2:04:37 , Caroline Tait 2:04:57 , Anita Atherton 2:18:05 , Bethany Sampson 2:23:58 , Martin Saxton 2:26:32 , Russ Penberthy 2:27:19 PB .
Pauline Davies ran the Burnham On Sea Half Marathon in 1:40:37 and Ian Partridge in 1:53:51 .
Lee Cusick finished the Shrewsbury Half Marathon in 1:56:12 .
Paul Thomas was 10th and 1st M55 at the off road 12K Minster Challenge in 56:42 then 34 Andy Macmillan 1:06:21 , 102 Mark Jelley 1:40:56 .
At the Plymouth 10k Scott Hunter was 62nd in 39:48 followed by 102 Jason Hockridge 42:09 , 152 Kieran Ferris .
The Westward League Cross Country was also at Plymouth where Thomas Humphrey was 30th in 35:55 then 88 Scott Hunter 40:39 , 90 Ethan Sterry 40:43 , 109 Jason Hockridge 43:26 , 126 Kieran Ferris 45:08 .
Claire Chalk , Lynda Garcia , Donna Smith and Rose Elliott completed the London Ultra 55K from Woolwich to Richmond in 7hrs46mins .
John Fowler and Fi Offord finished the gruelling trail Exmoor 50K with over 2000m elevation in 8hrs40 and 9hrs49 respectively .
23 - 29 September. Report by Andy MacMillan
South West Road Runners performed really well in a number of local races over the last week.
However, somewhat farther afield, Tim Vialls ran the Bure Valley 10 mile race in Norfolk in a time of 1.04:07 to finish 2nd MV55.
Nearest to home was the Bradley's Exmouth 10K, where Jody Bee led home the SWRR challenge with a 6th place finish in a fabulous time of 37:46, ahead of Ethan Sterry 39:22, then Mike Pearce 39:42, Lisa Cruise 44.23, Ian White 46:24, Mike Kay 48:03, Geoff Smith 50:51, Suzie Tosh 50:59, Donna Smith 52:05, Julie Belshaw 53:37 (PB), Harriet Munday 54:19, and Paul Whitmarsh 55:09.
Further west in the county, the Newton Abbot Ladies 10K provided an undulating challenge for a quartet from SWRR that was led home by Jenny Debenham 51:46, and then closely followed by Kath Hough 52:01 (3rd FV55), Lynda Garcia 53:54, and Karen MacMillan 1.22:19.
North Devon didn't miss out either, as a large contingent from the club made it to Barnstaple for their Half Marathon and Full Marathon. First over the 13.1 mile finish line in SWRR colours was Milan Goc, who finished 10th overall in a time of 1.21:30, in front of Ash Voralia 1.25:20, James Benham 1.26:37, Victoria Hill (1st lady overall) 1.27:47, Jane Newman 1.39:07, Fern Rice 1.46:05, Carrie Webb 1.49:37, and Joe Dickson 1.53:34, whilst two members conquered the windy conditions to complete the 26.2 miler – Richard Pedrick in 3.06:21 and Tracey Lloyd in 4.02:32.
Last but by no means least, 1st MV35 at the Taunton 10K was Paul Stidworthy, who bagged an excellent PB of 39:55 and who wasn't far in front of 2nd FV40 Alexandra Carter 41:52.
16 - 22 September. Report by Julie Hedges
On Sunday 22nd September
3 Swrr's took part in the tough off road Killerton Running Relish races
In the Half Marathon
Lucy Commander was 2nd lady overall in 1.52.58 , Peter Hawks finished in 2.01.18 Lynda Garcia in 2.27.15 2nd Vet 50
In the 10k
John Jackson was first swrr in 48.10, Katie Coult 49.43,Sarah Selway 1.01.48,Doug Tosh 1.05.57,Amanda Perry 1.10.30, Wendy Barrat 1.13.56
Taking part in the Winchester Half marathon Mark Tait got a PB in a time of 2.01.16, Caroline Tait finished in 2.04.56
In Weymouth Gwylym Gibson completed his first 70.3 Ironman in a time of 5.05.57
Richard Pedrick ran his weekly marathon 11 laps of the Goodwood motor circuit in a time of 3.04.26 and was 4th overall 3rd in age category
9 - 15 September. Report by Richard Stone
Sam Hopton was 2nd overall at the final round of the Run Exe 5K last Tuesday in 15:45. Other finishers were Thomas Humphrey 17:24, Jamie Howard 17:27 (1stMV40), Ed Pickering 17:31 (1st MV45), Jody Bee 17:42, Shaun Vanstone 17:56, James Benham 18:00, Scott Hunter 18:25, Richard Pedrick 18:33, Jamie Pullinger 18:47, Ethan Sterry 18:54, Paul Stidworthy 19:26, Jason Hockridge 19:37, Dom Stacey 19:38, Barry Frost 19:53 (1st MV60 (1st MV60 and MV60 course record), Alister Ferguson 20:01, Kieran Ferris 20:32, Chloe Fox 20:37 (1st FV35), Jo Pearce 21:06, John Caswell 21:08, Stephen Collier 21:13, Rosie Glazier 21:19, Ian White 21:30, Suzie Tosh 21:30, James Woolf 21:35, Jemma Marsh 22:07, David Nicholls 22:16, Roz Debenham 23:06, Jenny Debenham 23:45 and Jonno Johnson 24:03.
Overall age category series winners were Caroline Tait FV50, Ed Pickering MV45, Barry Frost MV60.
At the Yeovilton 5K Scott Hunter was first home for the club in 18:33, followed by Paul Stidworthy 19:16, Harry German 19:40, Fiona German 20:06, Kieran Ferris 20:40, Richard Stone 20:45 and Stephen Collier 21:45.
At the Bristol Half Marathon, Nick Bruce-White was first finisher for SWRR 1:20:41. Jamie Howard 01:21:23 PB, Don Rufus 01:21:36, Shaun Vanstone 1:24:57, Daniel Hawkrigg 1:26:21, Stephen Collier 1:38:44PB, Steve Jones 1:43:19, Kieran Ferris 1:44:30, Martin Saxton 2:21:38 and Lisa Palin 2:37:33
At the Cream Tea Caper marathon Richard Pedrick finished in 3:36:46 with Jorge Andrews finishing in 5:56:23
The previous weekend, Richard Pedrick put in an amazing performance to win the City to Sea marathon in 3.33:47 with Rob Graham 9th in 4.22:00 whilst Lynda Garcia also did very well in 5.28:39.
Thomas Humphrey came 8th in the Porthtowan 10K on the Friday in 50:01. Joe Dickson completed the Farnham Pilgrim Trail half marathon in 1.59:30.
2 - 8 September. Report by Tim Vialls
In the Great North Run Geoff and Donna Smith completed this famous half marathon. Geoff finished in 1:50:22 whilst Donna finished in 1:59:19.
Meanwhile in the Chippenham Half Marathon Ollie Thorogood from the club finished 13th overall in 1:14:18 closely followed by Gwylym Gibson 14th overall in a time of 1:14:33. Victoria Hill also competed in this race finishing in 1:27:25 which was a personal best time.
During the previous weekend Sam Hopton ran in the Cardiff 10k and finished 30th overall out of a field of just over 1500 runners with a personal best time of 32:41.
26 Aug - 1 September. Report by Ian Pang
On the August bank holiday SWRRs had a successful race at the Lustleigh Show 10k with Tim Vialls first club runner to finish 7th overall in 43:33 and 1st M50 then 16 Nicholas Einchcomb 46:56 , 22 Barry Frost 49:20 1st M60 , 63 Gavin Connor 57:09 , 85 Fiona Offord 1:01:17 , 91 Tracy Connor 1:02:35 . SWRR also won the men's team prize (Vialls, Einchcomb , Frost ) .
At the Bridgewater Half Marathon Miko Cadeddu was 5th overall in a PB of 1:18:43 then 33 Jody Bee 1:28:22 , 34 Scott Hunter 1:28:31 , 86 Matt Walmsley 1:39:02 , 118 Greg Laybourn 1:44:32 , 137 Ross Stevens 1:47:34 , 152 Debra Stevens 1:49:40 , 272 Lawrence Atherton 2:08:29 , 311 Martin Saxton 2:16:15 .
In the 10K Jason Hockridge was 16th in 41:10 followed by 18 Amy Carey-Jones 41:21 3rd Lady , 23 Richard Stone 43:27 , 61 Lee Cusick 52:09 , 112 Anita Atherton 1:00:46 .
Fiona German was 1st lady and 11th overall in 47:42 at the St Ives Bay 10K then 32 Harry German 52:40 , 33 Emma German 53:05 .
James Woolf was 26th in 44:04 in the Spitfire 10K .
Lisa Palin finished Treggy 7 , Launceston in 55:45 .
David and Laura Nicholls ran the hilly Beast , Dorset in 2:15 and 2:27 respectively .
Richard Pedrick finished 10th in the Dartmoor Highground Trail Marathon with 1600+m of elevation in 4:30:00 then 55 Robert Richards 5:55:24 , 81 Lynda Garcia in 6:39:59 .
David Wilson ran the exclusive Ultra Trail Mont Blanc OCC 55Km race with 3500m of elevation in 11:22:24 .
19-25 August. Report by Andy MacMillan
On the August bank holiday SWRRs had a successful race at the Lustleigh Show 10k with Tim Vialls first club runner to finish 7th overall in 43:33 and 1st M50 then 16 Nicholas Einchcomb 46:56 , 22 Barry Frost 49:20 1st M60 , 63 Gavin Connor 57:09 , 85 Fiona Offord 1:01:17 , 91 Tracy Connor 1:02:35 . SWRR also won the men's team prize (Vialls, Einchcomb , Frost ) .
At the Bridgewater Half Marathon Miko Cadeddu was 5th overall in a PB of 1:18:43 then 33 Jody Bee 1:28:22 , 34 Scott Hunter 1:28:31 , 86 Matt Walmsley 1:39:02 , 118 Greg Laybourn 1:44:32 , 137 Ross Stevens 1:47:34 , 152 Debra Stevens 1:49:40 , 272 Lawrence Atherton 2:08:29 , 311 Martin Saxton 2:16:15 .
In the 10K Jason Hockridge was 16th in 41:10 followed by 18 Amy Carey-Jones 41:21 3rd Lady , 23 Richard Stone 43:27 , 61 Lee Cusick 52:09 , 112 Anita Atherton 1:00:46 .
Fiona German was 1st lady and 11th overall in 47:42 at the St Ives Bay 10K then 32 Harry German 52:40 , 33 Emma German 53:05 .
James Woolf was 26th in 44:04 in the Spitfire 10K .
Lisa Palin finished Treggy 7 , Launceston in 55:45 .
David and Laura Nicholls ran the hilly Beast , Dorset in 2:15 and 2:27 respectively .
Richard Pedrick finished 10th in the Dartmoor Highground Trail Marathon with 1600+m of elevation in 4:30:00 then 55 Robert Richards 5:55:24 , 81 Lynda Garcia in 6:39:59 .
David Wilson ran the exclusive Ultra Trail Mont Blanc OCC 55Km race with 3500m of elevation in 11:22:24 .
12-18 August. Report by Richard Stone
Two fantastic results for South West Road Runners at the Yeovilton 5K summer series, Ollie Thorogood finishing 6th in a PB of 15:52, with Paul Stidworthy also finishing in a PB time of 19:11.
Lisa Palin finished the Cardinham Half marathon in 2:07:13.
Alexandra Carter was 2nd lady and 1st 40 VW on the Flying Fox Clatworthy 5 mile Woods and Water race.
Stephen Collier was first home for the club at the Torbay 10K in a time of 56:13, Andy MacMillian 59:22, David Nicholls 61:22, Jenny Debenham 64:45, and Laura Nicholls 73:22 also completed the tough multi terrain race.
5 - 11 August. Report by Julie Hedges
The 5th round of City Runs 5k took place on Tuesday 6th August
Sam Hopton was first over all in 15.54, Gwylym Gibson 16.24,Miko Cadedou 16.47,Jamie Howard 17.22,Ed Pickering 17.24,Jamie Pullinger 17.57,Shaun Vanstone 18.16,Jody Bee 18.19,Richard Pedrick 18.48, Ethan Sterry 19.23,Dom Stacey 19.53, John Major 20.00,Alister Ferguson 20.03,Barry Frost 20.13 Pb and 1st MV60 , Adrian Davey 21.03,Ian White 21.11 Pb , Suzie Tosh 21.23, Kieran Ferris 22.05,Lewis Jones 22.48,Karen Cook 24.17,Caroline Tait 24.33 1st FV50, Mark Tait 24.55 ,Lynda Garcia 25.27,John Kavanagh 26.17
On Friday 9th August SWRR were out in force with several racing again in the Forest Flyer at Haldon
Ollie Thorogood was second overall in 28.32 , Sam Hopton was 3rd in 29.01,Jamie Howard 31.02, Nick Bruce-White 31.29,Tim Vialles 32.41,Fiona German was First Lady in 34.29,Jason Hockridge 34.51,Ethan Sterry 35.09,Amy Jones 35.37,Barry Frost 35.53 1st MV60, Ross Stevens 36.45,Lisa Cruise 37.50,Ian White 37.59 Pb ,Suzie Tosh 38.17,Debra Stevens 40.10,Emma German 40.47,Jules Pring 42.12 Pb ,Lewis Jones 43.04,Lawrence Atherton 43.14,Mark Tait 43.33,Caroline Tait 44.22,Doug Tosh 46.42,Russ Pemberthy 50.46,Claire Chalk 51.18,Beth Sampson 56.58,Mellie Perkin 57.20
Lynda Garcia and Fi Offerd took part in The Red Rat 20 miles of tough coastal running finishing in 5 hrs 17
Neil Adger took on the Black Rat 32 miler finishing in 8:12:29
Richard Pedrick was 2nd overall at the Salisbury Trial marathon in a time of 3.19
29 July - 4 August. Report by Tim Vialls
Darren Chalk faced the longest challenge distance wise last weekend as he ran the 100 mile North Downs Way ultra in an incredible 23:52:21.
Naomi Shaw was second female overall in the EDDUM 50 mile fell race, finishing in 11:14:00.
Nick Bruce-White achieved second place overall in the Something Wild 33 mile Summit Ultra on Dartmoor in a time of 5:31:48.
Don Rufus and Shaun Vanstone ran in the Indian Queens Half Marathon in Cornwall. Don finished 25th overall in 1:24:33, whilst Shaun was 39th in 1:26:11.
Five runners from the club competed in the Totnes 10k. Jamie Howard finished 7th overall in a time of 40:29, whilst Amy Jones was finished 44th in 45:15. Jason Hockridge finished in 45:07, Stephen Collier in 51:03 and Hilary Collins in 1:08:43.
In the Bovey Tracey Carnival 5k which was held for the first time through the Parke Estate and organised by Bovey Valley Runners, Tim Vialls was the sole Road Runner to race and finished 3rd overall in 19:15.
22-28 July. Report by Andy MacMillan
The continued summer sun didn't stop SWRR runners setting some red hot times in their races last week.
Midweek saw three of our ladies complete the formidable Neolith Fell race, covering 5+ miles of the most spectacular Tors in West Devon. Naomi Shaw was the first FV35 overall in 46:16, closely followed by Laura Nicholls 56:30 and Fi Moore 1.04:54.
Moving on to last Saturday, and all eyes were on the Jurassic Coast 10K at Budleigh Salterton. A large contingent of SWRRs were led home by 5th-placed Milan Goc 39:27, followed by Shaun Vanstone 42:15, Mike Pearce 44:02, Dom Stacey 44:03, Barry Frost 45:02 (1st MV60), Jon Major 45:49, Andy MacMillan 48:43, Suzie Tosh 49:38, Richard Stone 49:59, Lisa Cruise 50:28, Stephen Collier 50:37, Lewis Jones 50:38, Lee Hedges 50:59, Rob Graham 51:06, Caroline Tait 57:00 (1st FV50), Lee Cusick 59:28, Amanda Perry 1.01:26, Mike Atkins 1.06:43, Linda Gethin 1.16:18, Melly Perkin 1:16:56, Karen MacMillan 1.24:13.
A busy week was completed on Sunday, when the Stoke Gabriel Carnival races took place and where Julie Hedges 1.16:45, Rose Elliott 1.24:38 and Amanda Perry 1.29:12 were the clubs representatives in the hilly off-road 7.5 mile race. Matt Walmsley travelled to North London to complete the Lee Valley 10Fest 10-miler in a PB of 1.13:28, Carrie Webb completed the brutal Lakeland 50 ultramarathon in 13.49:00, whilst closer to home Lynda Garcia finished the Seaview17, a tough 21-miler along the South West Coast Path in Somerset in 5.01:30.
15-21 July. Report by Ian Pang
City Runs held two 10k races by the canal , on the Wednesday Edward Pickering was first SWRR home in 37:24 for 15th overall and 2nd M45 then 19 Miko Cadeddu 37:56 , 25 Shaun Vanstone 38:53 , 29 Nicky Savill 39:22 3rd FSEN , 30 Richard Pedrick 39:25 PB , 41 Dan Grey 40:37 , 42 Paul Stidworthy 40:40 PB , 43 James Benham 40:54 , 44 Victoria Hill 40:55 PB 1st F35 , 56 Jason Hockridge 41:50 , 57 Dom Stacey 41:53 , 65 James Bingham 42:57 , 67 Rebecca Williams 43:26 , 76 Richard Stone 44:14 , 81 Alex Heywood 44:38 , 84 Jane Newman 44:55 2nd F40 , 91 Ian White 45:29 PB , 94 Libby Hockridge 45:41 2nd FU17 , 97 Kieran Ferris 46:08 , 103 Lewis Jones 47:01 2nd M65 , 118 Neil Adger 48:18 , 127 Mike Kay 48:53 , 130 Roz Debenham 49:15 , 152 Jenny Debenham 51:18 , 156 Jules Pring 51:53 , 172 Caroline Tait 52:43 , 175 Yusra-Zara Salman 53:38 , 178 Mark Tait 53:59 , 181 Sarah Taffler 54:39 , 191 Kirsty Hill 55:37 .
Jamie Howard was first SWRR back in 37:09 on Thursday's edition for 8th overall and 2nd M40 closely followed by 9 Milan Goc 37:12 3rd M40 , 11 Nick Bruce-White 38:10 , 12 Scott Hunter 38:14 1st M35 , 28 Ethan Sterry 42:46 1st MU20 , 32 Ross Stevens 43:11 PB , 42 Suzie Tosh 44:52 PB 2nd Lady 1st F40 , 52 Stephen Collier 46:47 , 74 Debra Stevens 49:07 PB 2nd FSEN , 107 Lynda Garcia 52:43 2nd F55 , 108 Lindsey Pattinson 52:43 , 113 Julie Belshaw 53:29 3rd F45 , 173 Harriet Munday 58:10 , 246 Liana King 1:05:03 .
At the Chudleigh Road Race Sam Hopton was 2nd overall in 31:17 then 6 Jamie Howard 34:44 1st M40 , 13 Tim Vialls 36:02 2nd M55 , 22 Nick Einchcomb 37:52 , 24 Dan Grey 38:05 , 25 Harry German 38:09 , 28 Fiona German 38:48 1st Local Lady , 43 Jason Hockridge 40.00 , 50 Jo Pearce 40:36 2nd F45 , 52 Alister Ferguson 40:41 , 60 Libby Hockridge 41:44 1st FU18 , 71 Matthew Gauld 42:51 , 90 Emma German 44:56 3rd FU18 , 126 Lynda Garcia 48:34 2nd F55 .
Tim Landy and David Wilson placed 2nd team in the 24 hour Thunder Run , Burton-Upon-Trent completing 23 X 6 mile laps .
Jamie Pullinger ran to a PB of 18:50 at the Eastbourne Golden 5K .
Vanda Van der Linden ran the Magnificent 7 , Saltash in 1:04:49 .
8-14 July. Report by Richard Stone
Sam Hopton won the Otter Rail River Run in a time of 35:05. Other finishers were Jamie Howard 38:25 (1st VM40), Tim Landy 39:26, Julian Cabrara 41:39 (2nd VM50), Dom Stacey 43:10 (3rd VM40), Barry Frost 43:53 (1st VM60), Rob Graham 44:04, Chloe Fox 44:08 (2nd Lady and 1st FV35), Jon Major 44:33, Becky Davies 46:07, Matthew Walmsey 46:38, Richard Stone 47:14, Stephen Collier 48:13, Peter Hawes 49:28, Tracey Connor 52:37 (3rd FV45), Lynda Garcia 54:53 (2nd FV55) PB, Caroline Tait 55:59, Mark Tait 56:16, Katie Williams 56:27, Fiona Moore 56:34, Lee Cusick 59:45, Anita Atherton 1:02:19, Lawrence Atherton 1:02:20, Martin Saxton 1:05:45.
At the Yeovilton 5K last Wednesday Nicky Savill was first back for the club in 18:53, Paul Stidworthy 19:42 PB, Jim Durston 20:29, Chloe Fox 20:43, Richard Stone 21:19 and Stephen Collier 22:17 also finished.
Heidi Simms completed the 100km non-stop Race to the Stones in 15:36:29.
In the Lundy Island Race Andy MacMillian finished in 2:25:13, with Rose Elliot 2:49:56 and Amanda Perry in 3:30:38 also completing the picturesque race.
Laura Nicholls completed the Snowdonia Trial Marathon in 7 hours 6 minutes, with David Nicholls completing the half marathon in 2 hours 59 minutes, both races involving a full ascent of Snowdon.
Alex Crump completed the Ironman Vitoria-Gasteiz in Spain in 11:28:46 finishing with a 3:34:43 marathon.
1-7 July 2019. Report by Julie Hedges.
Tuesday 2nd at the 4th round of City Runs 5k summer series first SWRR to cross the line was Ollie Thorogood in 16.50, Miko Cadedou 16.56, Ed Pickering 1st M45 , 17.18, Jamie Howard 17.28, James Benham 18.16, Shaun Vanstone 18.21, Tim Landy 18.30, Scott Hunter 18.46, Richard Pedrick 18.50, Ethan Sterry 18.59, Jamie Pullinger 19.15,James Woolf 19.40 1st M50, Paul Stidworthy 19.44 PB , Dom Stacey 19.54, PB, Jason Hockridge 19.57, Barry Frost 20.05 1st V60, Andy Macmillan 20.13,John Major 20.31, Alister Ferguson 20.46,Karl Schultze 20.59, Jim Durston 21.01,Adrian Davey 21.08, Richard Stone 21.18, Suzie Todh 21.19, Lisa Cruise 21.46,Ian White 22.07, Jemma Marsh 22.25, David Nicholls 22.31,Stephen Collier 22.38, Laurence Atherton , Laura Nichols 24.44, Yusra -Zara Salman 24.48, Caroline Tait 25.17,
The Erme Valley Relays on Friday 5th July saw SWRR coming away with plenty of prizes and bottles of wine 
Team prizes went to 
3rd Senior Male team in a combined time of 54.03
Sam Hopton 12.44,Nick Bruce -White 14.25, Miko Cadeddu 13.36, Ollie Thorogood 13.18
1st FV35 team in a total time of 67.28
Victoria Hill 15.47 PB Suzie Tosh PB , 17.34,Jane Newman 17.56, Amy Jones 16.11
1st MV60 team combined time of 79.38
David Evans 20.13,Tony Gale 20.50, Geoff Smith 19.59,Lewis Jones 18.38
Other SWRRs taking part were 
Hamish Fletcher-Cooney 14.05,Jamie Howard 14.09, Joe Osborne 14.14, Ash Voraila 14.39, Shaun Vanstone 14.52, James Benham 14.59,Scott Hunter 14.59, Don Rufus 15.12,Tim Vialls 15.15,Dave Wilson 15.17, James Woolf 15.20,Julian Cabrera 15.21,Harry German 15.21,Jamie Pullinger 15.28, Dan Grey 15.46,Paul Thomas 15.46,Jason Hockridge 15.47, Paul Stidworthy 15.57, Fiona German 16.03 PB,Beccy Williams 16.30,John Major 16.33,Richard Stone 16.58 PB,Karl Schultz 17.08,Ian White 17.15,Emma German 17.35 PB,David Nicholls 18.21,Stephen Collier 18.27, Julie Hedges 18.41,Karen Cook 19.39,Yusra-Zara Salman 20.00,Lynda Garcia 20.37,Donna Smith 21.17,
3 SWRRs took park in the the tough off road Charmouth Challenge 8 mile fell run which climbs to the highest point on the south coast taking in breathing views from the Golden Cap 
Andy MacMillan 1.18:39,
Lynda Garcia 1.29:10,
Tracy Connor 1.32:32.
Richard Pedrick was also 2nd overall in the Moreton marathon in 3.21:04
James Higgins completed Ham and Lyme 50k in 6h21!
Results from Sunday 30th June 
North Devon AONB Marathon
9th overall was Richard Pedrick 3.53.09 , Neil Adger 5:31:31 and Rob Scovell finished the half marathon in 2:21:45.
17-30 June (2 weeks). Report by Tim Vialls
On Sunday 23rd June a couple of runners from the club ran in the Swansea Half marathon. Jason Hockridge finished in 1:36:57 and Amy Jones in 1:36:58.
Meanwhile, on that same day a few South West Road Runners competed in the Torbay Half Marathon. First club runner to finish and 26th overall was Miko Cadeddu in 1:20:25, whilst Don Rufus was 38th in 1:22:25. Other finishers included Scott Hunter 1:27:46, Shaun Vanstone 1:28:04, Chloe Fox 1:34:59, Fraser House 1:38:54, Lisa Cruise 1:41:23, Matthew Walmsley 1:43:21, David Nicholls 1:51:17, and Dennis Hall 1:58:40.
For those liking a more challenging distance a few runners took on ultras during that weekend including Darren Chalk and Kieran Ferris who completed the Jurassic Coast 100km ultra both in 16:04 hours finishing in 12th and 13th respectively, whilst in the Race To The King
South Downs double marathon ultra, Naomi Shaw finished in 10:29:56, Laura Nicholls in 11:15:48, and Fern Rice in 11:39:03. Whilst Naomi and Laura completed their ultra with an overnight break, Fern completed her ultra non-stop!
During the most recent weekend four club runners ran in the hilly off road Umborne Ug 10k on Saturday evening. Tim Vialls finished 6th overall in 46:18. Karl Schlutze in 1:01:21, Lynda Garcia in 1:05:32, and Rose Elliot in 1:12:58.
10-16 June. Report by Andy MacMillan
There was a veritable plethora of races for SWRR last week, covering just about every possible distance!
Thursday evening saw the ever-popular 3.6 mile Dawlish Coastal Dash, in which Jamie Howard came 4th overall in 23:02, followed by Milan Goc in 24:11, Andy MacMillan 26:41, Ross Stevens 27:02, Jo Pearce 27:14 (1st female overall), Debra Stevens 30:17, Lee Cusick 32:18, Jenny Debenham 32:19, Danielle Cox 33:35, Lindsey Pattinson 33:38, John Kavanagh 34:34, Katie Williams 35:16, and Anita Atherton 39:05.
The following evening was all about the inaugural Haldon 3K Relays, in which SWRR supplied 15 of the competing 59 teams of four! The team highlights were SWRR3 senior men's team finishing second overall (Davies, Gibson, Cadeddu, Hopton), and category wins for SWRR5 MV40 (Howard, Rufus, Somers, Pickering), SWRR1 MV50 (Everson, Thomas, Einchcomb, Vialls), SWRR13 FV45 (Van Pring, Smith, Belshaw, Marsh), SWRR9 MV60 (Evans, Frost, Smith, Jones) and SWRR12 FV55 (Hedges, Furness, Van der Linden, Smith). Individual times were Sam Hopton 9:39, Gwylym Gibson 10:02, Miko Cadeddu 10:23, Ed Pickering 10:27, Alex Crump 10:43, Jamie Howard 10:49, Joe Osborne 10:50, Ash Voralia 10:43, Nicky Savill 11:10, David Wilson 11:13, James Bentham 11:17, Don Rufus 11:27, Ed Shaw 11:31, Nick Einchcomb 11:32, Tim Vialls 11:32, Nicky Savill 11:33, Richard Everson 11:34, Gareth Davies 11:36, Paul Thomas 11:47, Paul Stidworthy 11:59, Andy MacMillan 12:02, Rob Somers 12:08, Dan Grey 12:09, Fiona German 12:14, Chloe Fox 12:25, Lee Hedges 12:28, Adrian Davey 12:34, Barry Frost 12:37, Becky Davies 12:38, Beccy Williams 12:42, Suzie Tosh 12:49, Ian White 12:52, Lisa Marie Cruise 13:01, Trudi Smith 13:09, David Nicholls 13:11, Naomi Shaw 13:20, Jemma Marsh 13:20, Mike Feighan 13:23, Emma German 13:24, Joe Dickson 13:21, Roz Debenham 13:44, Mike Kay 13:52, Julie Hedges 14:01, Lewis Jones 14:19, Lawrence Atherton 14:25, Karen Cook 14:30, Tracey Lloyd 14:32, Geoff Smith 14:34, Jules Van Pring 14:41, Jenny Debenham 14:43, Laura Nicholls 14:51, Katie Williams 14:56, Dave Evans 14:58, Yusra-Zara Salman 14:59, Julie Belshaw 15:04, Vanda Van der Linden 15:04, Gail Furness 15:22, Donna Smith 15:56, and Sarah Taffler 16:02.
Saturday was somewhat unsurprisingly a little quieter, however Lisa Palin completed 7 laps of the Hope24 race for a total of 35 miles in 6.50:00, whilst Richard Pedrick completed 6 laps of the Endure24 race to rack up 30 miles in 4.26:17. The Burrator Horseshoe fell race saw strong performances from Milan Goc 48:22, Ed Shaw 52:16, Naomi Shaw 58:27, David Nicholls 1.02:30 and Laura Nicholls 1.09:43, and last but by no means least Neil Adger completed the very hilly Exmoor Maverick Half Marathon in 2.25:52.
The weekend was rounded off with another clutch of races, starting with Exeter's own Age UK 10K which was won by Sam Hopton in 35:43 and which also saw Jamie Howard finish third in 37:10 and Chloe Fox be the first female home in 42:37. Other finishers were Nick Bruce White 37:38, Tim Vialls 38:58 (1st MV55), Scott Hunter 40:23, Kieran Ferris 43:48, Rob Graham 44:43, Richard Stone 44:51, Lisa Marie Cruise 44:51, Suzie Tosh 45:13 (PB and 1st FV40), Lawrence Atherton 50:57, Tony Howell 51:00, Julie Belshaw 51:41 (PB), Caroline Tait 52:31, James Eustice 53:04, Yusra-Zara Salman 53:16, Jules Van Pring 54:11, Mark Tait 55:11, Sarah Taffler 56:49, Alice Wimberley 57:58, Russ Penberthy 59:11, Linda Gethin 1.01:30, Martin Saxton 1.01:50, Liana King 1.03:53, Melly Perkin 1.04:21, Naomi Cronk 1.06:42, Sharon Vialls, 1.06:47, and Karen MacMillan 1.15:01. Farther afield, Geoff Smith and Donna Smith ran the Martock 10K in 50:57 and 54:40 respectively.