Road Running and Coached Track
Wednesday Evenings from 6:30PM
Our club night is Wednesday from 6.30pm until around 8.00pm at the Exeter Harriers Pavilion, Exeter Arena, Summer Lane, Exeter – see the map at the bottom of the page. 
Doors open at 6:30 and there is a briefing at 6:45 before the running groups depart and the track session starts. There will always be several members at the door to welcome new members so just turn up and let them know it is your first time. The first session is free! The cost of sessions is £2 for members and £4 for non-members.
As well as many road running groups led by qualified running leaders we also have a seniors and juniors coached track sessions.
Road Running Groups range from 6 minute miles and faster to 10 minute miles or slower with distances from 3 or 4 miles through to about 9 miles. In the summer months, many of the running groups prefer to head off-road into the nearby countryside.
Our Transition Group is designed for runners who want something a bit more challenging than a RunTogether beginners group. If you can jog or run your way around parkrun (3 miles / 5k) or similar without stopping or walking, you're fit enough to join this group. We offer a 9-week programme starting with "3 miles at the pace of the slowest runner" and building up to running for a full hour. The group operates alongside SWRR's regular Wednesday club nights – so once you've completed the 9-week programme you should be ready to join one of our other, regular groups.
Next Group TBA
The Junior Groups are usually coached within the Athletic Stadium and take part in all forms of track and field disciplines. 
If you want to know more, please contact us or just turn up at Exeter Arena, 6:30pm on a Wednesday, and give it a try. Your first session is free!
COACHING ASSISTANT TRAINING OPPORTUNITY:
Message from Alek Lach…
England Athletics have confirmed that they are willing to put on a Coaching Assistants course, for up to 20 candidates, specifically for SWRR in Exeter. Normally , access to the EA coaching  development program is only via their website booking system, so getting them to stage the course solely for our benefit is a first as far as I'm aware. The advantage for our club is obvious – we can get up to 20 members trained in "one hit" rather than have to send them away across the region either individually or in small groups.
In brief the Coaching Assistant qualification provides an introduction to coaching athletics via a range of running, jumping, and throwing skills and activities. There is also a focus on the fundamental movement skills that underpin athletic events. The course involves both classroom and practical activity. There is no assessment element as a Coaching Assistant licence will be awarded to successful attendees who have participated in the tasks and activities throughout the course and have demonstrated engagement.
Please feel free to approach myself or any of the senior coaches or email me for further discussion/information.
Course Date: Weekend 23rd/24th April 2022
Course Fee (per person): £170 – to be paid in full by SWRR
This Week's Track Session (12/1/2022), Coaches: Phil Wylie and Vic
This week we have a special guest coach Phil Wylie leading our track session.  He will be running 2 concurrent sessions (one for HM/M and the other with a 5k focus). 
Session 1 (half and marathon focus):12-15min progression run (every 4/5mins you will progress from MP to Tempo and then  to 10K pace. 
You will then have a 3-5mins recovery and regroup before doing the following: 4/3/2/1min (1min jog between) at MP/Tempo/10k/5K pace
Session 2 (5-10K focus):
10-16 x 400m progressing from 10K to 5K pace as the session progresses, with 45 seconds walk/jog recovery.
Phill is a British Duathlon Champion so we are really excited to have him on board to help us with some sessions over the next 2 months.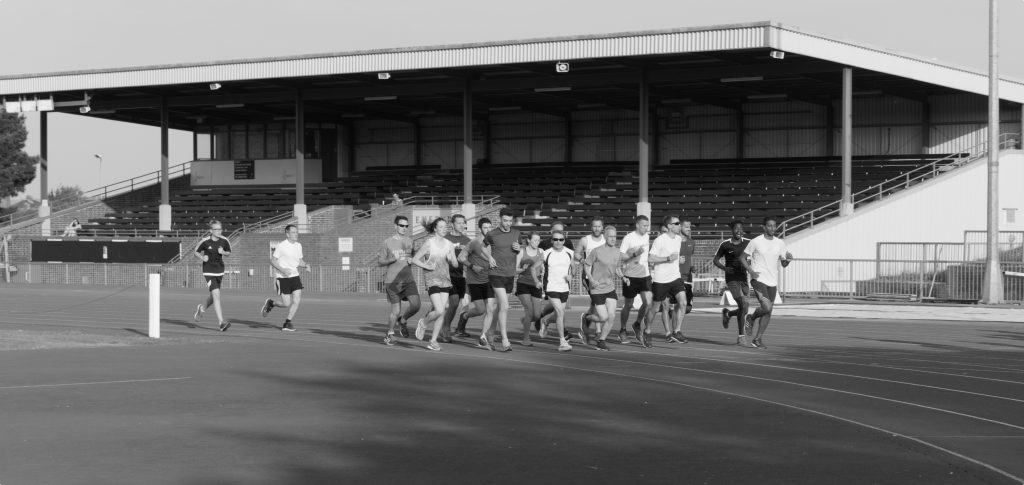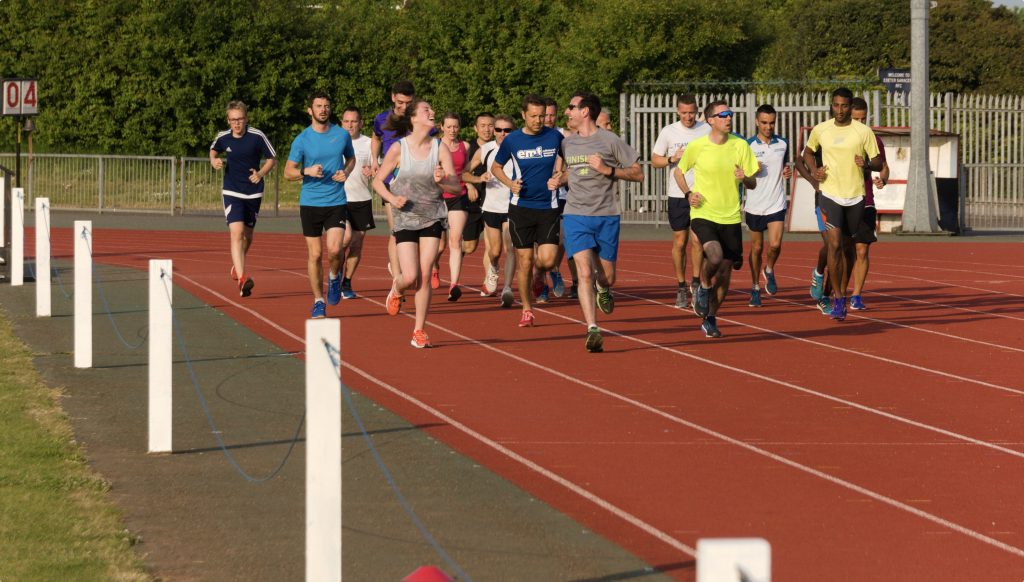 Examples of previous sessions include:
3 x 200, 300, 400mtr reps finising with 1 or 2x 800mtr
6 to 8 x 600mtr reps; 1:30 recovery between each 600mtr. Finish with a 200mtr for those who wish.
Running drills 4 x 5min reps with 2min rolling recoveries followed by 4/5min rest then 1 x 10min run. Cool down
7 x handicapped 600mtrs.
VO2max training session with 30/30sec intervals: 2 sets of 10 (30sec hard; 30sec easy jog) – Recovery of 1:30 between the two sets.
4 x (6mins @ 10k pace, 1min rest, 400m at 5k down to 3k pace) with 3-4mins rest between the sets.
Oregon Circuits, a mix of 400mtr running and 1min of various drills and exercises.
3 sets of 500/400/300/200/100mtr runs.
Reps of 1000mtr (4 to 6) with 1:30 recovery between each rep.
2 or 3 sets of (3 x 3min reps with 30 sec rolling recoveries) with 2min rest between sets.
5 to 8 x 800mtr – 1min to 1.30min recovery