In light of the most recent government guidelines in relation to The Corona Virus, the SWRR committee have unfortunately been forced to take the decision to suspend all club sessions for the foreseeable future, to protect the health of all our members and to restrict the spread of the virus
We will be in touch as soon as the guidelines allow us to restart our sessions.
Road Running and Coached Track
Wednesday Evenings from 6:30PM
Our club night is Wednesday from 6.30pm until around 8.00pm at the Exeter Harriers Pavilion, Exeter Arena, Summer Lane, Exeter – see the map at the bottom of the page. 
Doors open at 6:30 and there is a briefing at 6:45 before the running groups depart and the track session starts. There will always be several members at the door to welcome new members so just turn up and let them know it is your first time. The first session is free! The cost of sessions is £2 for members and £4 for non-members.
As well as many road running groups led by qualified running leaders we also have a seniors and juniors coached track sessions.
Road Running Groups range from 6 minute miles and faster to 10 minute miles or slower with distances from 3 or 4 miles through to about 9 miles. In the summer months, many of the running groups prefer to head off-road into the nearby countryside.
Our Transition Group is designed for runners who want something a bit more challenging than a RunTogether beginners group. If you can jog or run your way around parkrun (3 miles / 5k) or similar without stopping or walking, you're fit enough to join this group. We offer a 9-week programme starting with "3 miles at the pace of the slowest runner" and building up to running for a full hour. The group operates alongside SWRR's regular Wednesday clubnights – so once you've completed the 9-week programme you should be ready to join one of our other, regular groups.
The next 9-week Transition Group programme will start 10th April 2019, with the aim of getting new runners up-to-distance for the Age UK Exeter 10k.
The Junior Groups are usually coached within the Athletic Stadium and take part in all forms of track and field disciplines. 
If you want to know more, please contact us or just turn up at Exeter Arena, 6:30pm on a Wednesday, and give it a try. Your first session is free!
The coached senior track sessions vary weekly but are usually interval/circuits focusing on speed-endurance. The main session is always proceeded by a comprehensive warmup.
This Week's Track Session (27/10/2021), Coach: Martin and James
Warm up & drills
Run for 4 minutes at a hard effort, 2 minutes easy, 3 minutes hard, 2 minutes easy, 2 minutes hard, 1 minute easy, and 1 minute hard. Run easy for 5 minutes then repeat.

Cool down and stretches

All abilities welcome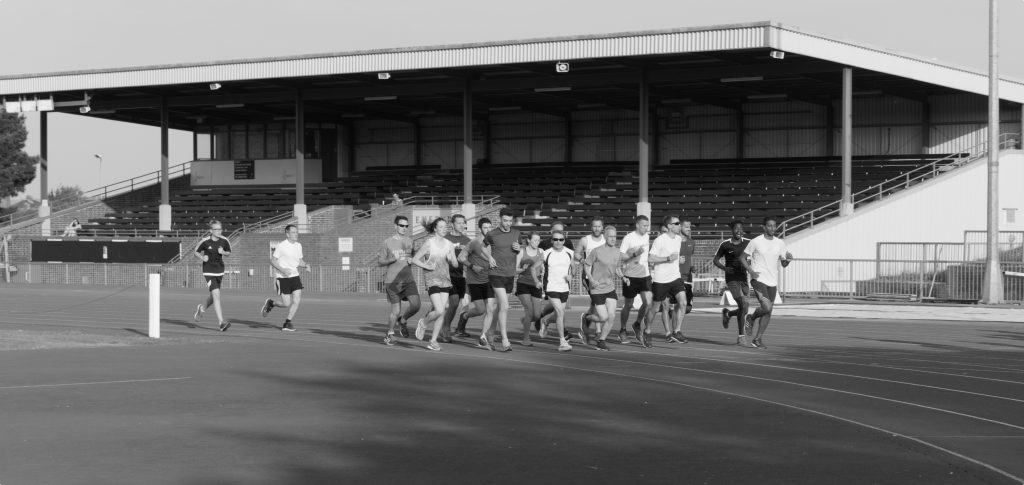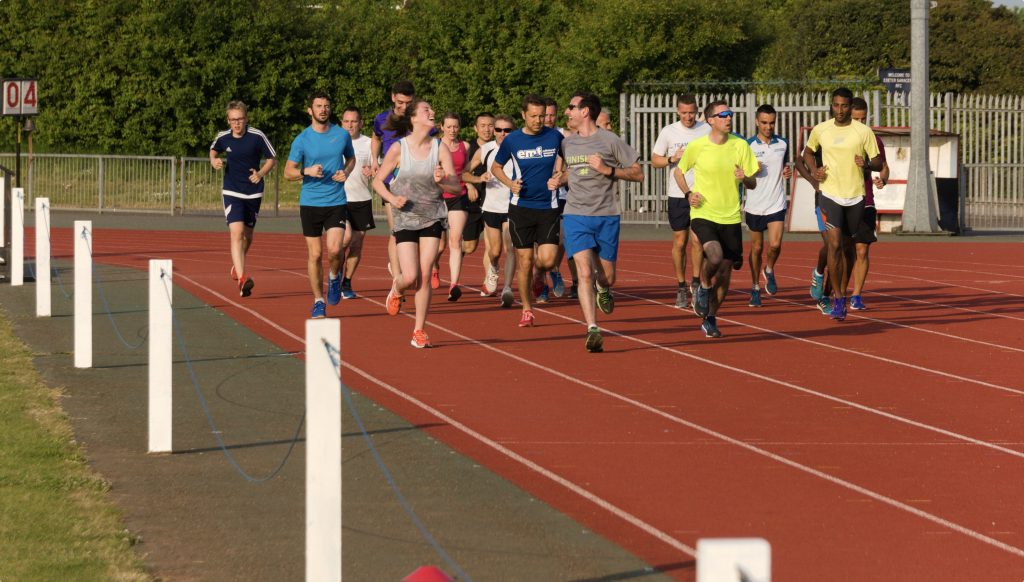 Examples of previous sessions include:
3 x 200, 300, 400mtr reps finising with 1 or 2x 800mtr
6 to 8 x 600mtr reps; 1:30 recovery between each 600mtr. Finish with a 200mtr for those who wish.
Running drills 4 x 5min reps with 2min rolling recoveries followed by 4/5min rest then 1 x 10min run. Cool down
7 x handicapped 600mtrs.
VO2max training session with 30/30sec intervals: 2 sets of 10 (30sec hard; 30sec easy jog) – Recovery of 1:30 between the two sets.
4 x (6mins @ 10k pace, 1min rest, 400m at 5k down to 3k pace) with 3-4mins rest between the sets.
Oregon Circuits, a mix of 400mtr running and 1min of various drills and exercises.
3 sets of 500/400/300/200/100mtr runs.
Reps of 1000mtr (4 to 6) with 1:30 recovery between each rep.
2 or 3 sets of (3 x 3min reps with 30 sec rolling recoveries) with 2min rest between sets.
5 to 8 x 800mtr – 1min to 1.30min recovery