Welsh Castles Relay 2022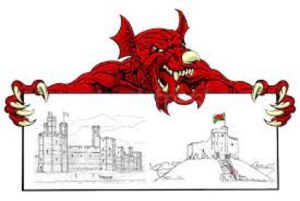 I thought I might start this personal review of SWRR's return to the Welsh Castles Relay earlier this month by trying to sound all erudite with some quotes about 'expectations' and 'performance' by famous figures such as Michelle Obama, Bruce Lee or Bill Gates. Or maybe, research some inspirational runner's quote e.g. from Haile Gebrselassie, but I ended up seeking out a quote that was so niche that it almost certainly does not exist, namely:-
'How do you win a WCR stage after lack of sleep in a Caernarfon sports hall due to the sound of multiple runners farting!!'
Clearly, I got all my training wrong. Never mind doing ten mile hilly training runs in April and May. What I should have been doing is researching better quality ear plugs or acclimatising myself by listening to recordings of flatulence for hours on end in the nights leading up the WCR weekend!
Nonetheless, we can all probably recount examples of when we have put in weeks or months of training for a race and then had a rubbish night's sleep on the day before (maybe fretting about all our pre-marathon rituals), yet despite that, we have still performed reasonably well.
So what can I say about SWRR's trip to Wales for this great event, so sorely missed over the last three years due to the pandemic? We have missed it for sure. I think this was my eighth Castles weekend and despite it being the first trip I had been on in which we only had half the runners i.e. only one instead of two teams, it really was a special one this year and one to be savoured.
For starters, the long journey up Caernarfon on the Friday was probably the smoothest journey I can remember. This is probably more down to luck than judgment as in the past the time taken has invariably been dictated by what chaos there is on the M5, whether traffic incidents and/or roadworks (usually near Bristol). This time, we actually got to the excellent Three Pigeons pub in Shropshire not too late, got our grub served almost immediately and got to the sports hall in daylight, before it was actually due to open, to let runners in to set up beds in their 'luxury' digs. Result!!
Onto Saturday and Day 1.  Les Croupiers Running Club who organise the Welsh Castles are a hard act to follow in terms of race/event organisation. Just thinking how complicated it can be to organise a single race, this event is off the scale. Twenty stages, so twenty separate races, nearly sixty teams, the various timing, briefings, water stations, traffic guidance, updated results system……more on that shortly…. and problem solving around any last moment hitches.
For the latter, look no further than the actual start of the event at Stage 1 which traditionally starts just outside Caernarfon Castle with quite a bit of razzamatazz.  No sooner than the team captains had left the briefing room in the sports hall, they all got called back in to the room to be told that race marshalls had discovered that the footbridge across the River Seiont had been closed meaning that the race start had to be switched at the last moment. The fact Les Croupiers solved this by switching the start to the other side of the river from the castle and redirecting team minibuses accordingly at the eleventh hour exemplifies just how polished they are at dealing with race organisation/problem solving.
This rescheduled start to Stage 1 evidently did not unsettle Nicky Savill who not only crossed the finish line as first female stage winner, but bagged her second yellow shirt in consecutive WCRs! Wow! What an unbelievable start and I was lucky along with a few SWRRs to witness her finishing. I think I am right in thinking that Nicky is the first SWRR to win a stage more than once.
Bearing in mind that despite our best efforts, there are some years at the WCRs in which we get mighty close to winning a stage, but return to Devon with no yellow shirts (for those unfamiliar to the WCR, you get this colour shirt for a stage win….bit like the Tour de France) and sometimes we come up trumps with one stage winner. So, based on history, you would think ok, thanks Nicky, you've got us our stage winner early at Stage 1, job done. But, no…….we didn't have to wait a year for another stage winner, but merely a matter of hours at Stage 4 ending in Harlech.
Near a fairly inconspicuous car park which was the Stage 4 finish, being overlooked on high by Harlech Castle, I was lucky once again to be waiting in anticipation and hopeful that we could see Sam Hopton get a decent finish on his 9.5 mile stage. All going well, maybe a top five or six finish was doable. For this stage there is a long straight road leading to the finish, so the first runner or runners can be seen on the horizon, but barely visible and hard to make out club colours unless anyone had packed a telescope in their rucksacks! Nicky and I were debating whether a vague shape of the first runner approaching was male, female, was it a white shirt or was it yellow? Seconds ticked by and it was fairly certain whoever it was, he was wearing a yellow vest. Could it possibly be Sam? Abergele Harriers adorn a very similar vest to SWRR so it wasn't an absolute certainty. More seconds ticked by and it was Sam. Yessss!!! From what I had heard, this was a tough competitive stage and Sam had timed his finish to perfection.
We were four stages done and had had stage winners in two of them!! Back of the net!!!!(….or insert any other Alan Partridge sporting quote).
I don't recall a WCR in which the club has had two stage winners and you may need to check with veterans who are far more seasoned at attending (Lewis, Paul T?) to see if I am factually correct. What is certain is it is unprecedented SWRR achieving three. Step forward Ollie Thorogood.
It would have been too good to be true to have been able to witness the finish for Stage 6 at Dolgellau, but as I was driving minibus 1 and commitment to the various runner drop offs and collections, it unfortunately did not include this stage. In 2019 at the last Castles I had watched Ollie pull off a cracking finish pipping a runner into second place on the steep short hill finish at Stage 9. For a runner who is on top form and no stranger to race victories in Wales (Ollie has won the Aberystwyth 10k twice), going one step further was not beyond his reach, but there is no doubt that this year there really was some stiff competition in many of the stages e.g. the female Stage winner at 10 finishing at Newton knocked eight minutes off the course record. Ollie excelled in his stage this year, winning and with a margin of about 45 seconds over the second place finisher. Great result and really pleasing that Ollie's family could see him finish as they are reasonably local.
So, three stage winners out of the first six stages and by the end of Saturday were positioned very nicely in seventh out of 56 teams which was outstanding.
Credit to Sam as our team captain and James Benham for some astute tactics with choosing runners for stages. Yes, granted that it can depend how stiff the competition is on a particular stage, weather conditions etc, but such a big percentage must go down to the training and effort put in.
There were some noteworthy performances from SWRR runners, not just the aforementioned stage winners, a few finishing in top fifteen or twenty places, some getting personal best segments or near to personal bests, runners tackling challenging hilly stages, and runners new to the WCR achieving very decent finishes. Creditable that Paul Thomas, who is excelling in his age category these days, was agonisingly close to a vets stage win on Day 1.
One could argue that our runners who competed on Day 1 was, with a few exceptions from the Day 2 runners, our first string so to speak. Nonetheless, by the end of Day 2, our 'second string' did SWRR proud and overall helped the club achieve a tenth place finish. I like to think that our Day 2 runners were buoyed on by the performances from Day 1. On a personal note, I felt my Stage run was boosted by that fact, plus caffeine and adrenaline, but probably not six hours sleep in two days! Any WCR – SWRR historians out there, please feel free to correct me, but I believe that tenth is our best ever finish.
I think that every SWRR runner had a very good stage run and some outstanding.
One of the innovative improvements this year at the WCR was the providing of toilets at the start of Stage 20…….. only kidding, that is still the large hedge in the car park in Caerphilly! No, the improvement is the WCR App that provides Stage results throughout each day and team positions. This makes the competition far more interesting as you can see it unfolding throughout each day.
Some other notable comments:-
Our team were all provided with pink headbands at the start of the weekend. This was to pay tribute to and remember (not that we will ever forget) our beloved Mike Feighan who we very sadly lost one year ago. Mike was known for wearing colourful running accessories such as that colour headband. For the past few WCR trips, I shared the driving with Mike in the seventeen seater minibus (top speed 50 on a downhill with the wind behind you or so it feels!!), so I was relieved that this year we didn't take that bus as it has too much connection with the great man. Some SWRRs crossed their finish lines with the headband donning their heads, others around wrists. We miss your banter and comedy gold from the Castles weekends Mike.
For those of us who stayed in the B&B on Saturday night, as we got nowt in terms of breakfast, should it have been advertised as 'Bed' rather than B&B!! Praise be for mini porridge pots then!!
Best gadget award for supporting our runners and earache for minibus passengers goes to Ash with his megaphone. "Ole ole ole." Quality!
So, all in all a successful and enjoyable SWRR weekend.
It's never going to be perfect as we've debated in the past about the accommodation issue which 'it is what it is' basically. Am sure not everyone will agree with me here, but naturally if we all had separate groups in cosy and probably not cheap B&Bs in Caernarfon on the Friday night, we would get better sleep, but we would all be disparate and not having that feeling of togetherness for the start of the weekend. As basic as the sports hall is, it's free for us and the staff make us welcome. Just get quality earplugs!!
Big thanks to Sam for all his organisation of the weekend, planning in the months before and ably assisted by James.
Thanks should go also out to the minibus drivers (Dave Wilson, Donna Smith, Hamish Fletcher-Cooney, Nick Bruce-White, Sam and….er, well I can't thank myself, but I drove too).
Thanks to anyone else who chipped in with assisting whether with navigating so we didn't end up getting lost or anything else.
Finally the team photo is missing two of our SWRR runners, Hamish plus Don Rufus who had to leave Cardiff early before this picture was taken. Be good to have some separate photos if you consent to this. I have one myself of Don at the start of the Drovers stage.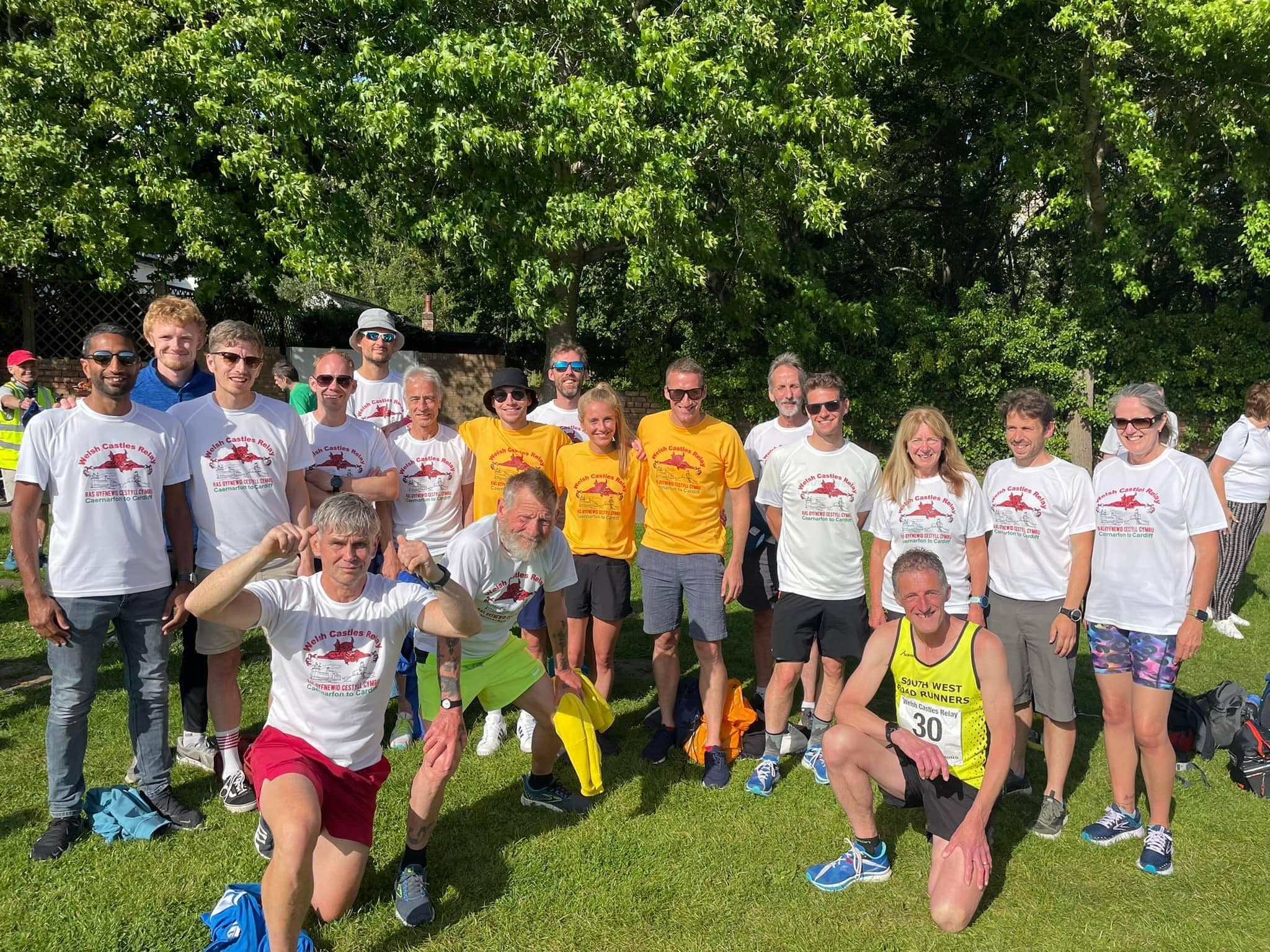 Roll on 2023! Four stage winners?!     
Tim V.