If you think you may be interested in joining, please come along for a free trial session at one of our club nights.  Our club night is Wednesday when we meet from 6:30pm in the Exeter Harrier's Pavilion at Exeter Arena (Summer Lane, Exeter EX4 8NN).
After your free trial session, subsequent session fees are £4 for guests and £2 for members.
There are a number of ways you can pay subscription fees – cash; PayPal; or a one off £50 payment for the year which provides a considerable saving if you attend regularly
If you would like to join then please complete the form below.
Our club nights offer a choice of 1 hour road runs (adults only) at a wide variety of paces (typically 4 to 9 miles in total) or a coached session on the running track.
Juniors from the age of 8 are coached on the track (runs, throws and jumps) and all abilities are welcome.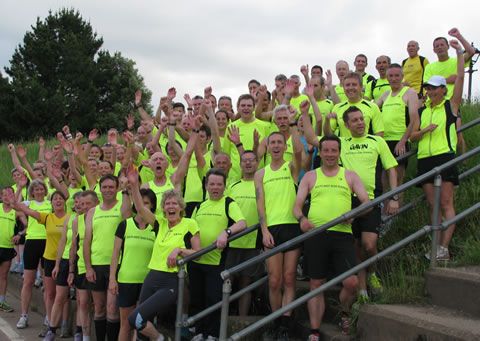 You don't have to!  Lots of runners happily run without belonging to clubs, and there are many other good clubs to consider.
However, if you join us, you get:
An England Athletics Registration Number, entitling you to an entry discount of at least £2 for all UK Athletics licensed races
Club night sessions for £2 instead of £4
Access to qualified coaches, to help improve your training and race performances (this isn't compulsory!)
Access to our club outings and social events
To meet a lot of fellow runners who will be interested to hear your stories, answer your questions, offer advice and generally "talk running"
Above all, we have a lot of fun and you're welcome to join in.
If you would like to join us, please complete the form below.
1st claim membership includes registration with England Athletics, enabling you to compete for the club. You also get a £2 discount on entry fees to most races. You can only be registered with (and compete for) one club. If you are registered with England Athletics through another club and want to run with SWRR and enjoy the benefits of membership you can join as a 2nd claim member, this enables you to train with us and take part in all social events but not compete. If you would like to transfer your 1st claim status to SWRR you can do this on the England Athletics portal.
Please note we are not currently accepting new junior members as we are at capacity. If you are a junior who currently attends the Wednesday night junior session as a guest and you wish to become a member please speak to Alek.